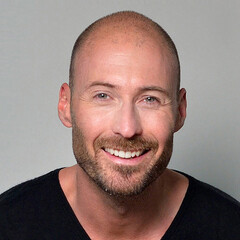 Jonathan Berube
Director | Senior Art Director
Los Angeles, California, United States
Summary
Originally from Montreal Canada, I started my journey in filmmaking at Sheridan College where I completed a Classical Animation Filmmaking Degree.
After a few VFX roles on feature films, I later on spent 12 years at Blizzard Entertainment overseeing most Starcraft game trailers and assisted on other projects such as the Warcraft feature film.
I had the chance to spend the last 4 years of my career working on James Cameron's Avatar Sequels and I am now bringing my 20 years experience to Directing and Art Directing the highest quality game trailers and live action / CG hybrid commercials and episodic content.
Skills
Art Direction
Concept Art
Concept Design
Matte Painting
Storytelling
Directing
Casting
Onboarding
Building Teams
Operation
Team Organization
Productions
Movie

ALITA Battle Angel

Year

2019

Role

Sr. VFX Consultant

Company

Lightstorm Entertainment

Movie

Warcraft

Year

2016

Role

VFX Art Director

Company

Blizzard Entertainment

Video Game

Diablo III

Year

2012

Role

Lighting Art Director

Company

Blizzard Entertainment

Video Game

World of Warcraft - Myst of Pandora

Year

2012

Role

Matte Painting Supervisor

Company

Blizzard Entertainment

Video Game

World of Warcraft - Wrath of the Lich King

Year

2008

Role

Matte Painting Supervisor

Company

Blizzard Entertainment

Video Game

World of Warcraft - The Burning Crusade

Year

2007

Role

Matte Painting Supervisor

Company

Blizzard Entertainment

Video Game

World of Warcraft

Year

2004

Role

Matte Painter

Company

Blizzard Entertainment
Experience
Director + Sr. VFX Art Director at Hydra Studios

Irvine, United States of America

Sr. VFX Consultant at Lightstorm Entertainment

Manhattan beach , United States of America

March 2016 - February 2020

VFX Art Director at Blizzard Entertainment

Irvine, United States of America

February 2012 - March 2016

Lighting Art Director at Blizzard Entertainment

irvine, United States of America

February 2009 - January 2012

Matte Painting Supervisor at Blizzard Entertainment

Irvine, United States of America

February 2006 - January 2009

Matte Painter + Concept Artist at Blizzard Entertainment

Irvine, United States of America

February 2004 - January 2006

Matte Painter + Camera Tracking Artist at Hybride

St-Sauveur, Canada

September 2002 - May 2003